Service is the General forum of the bids of clients of our Analytical Center. Here You can share your assumptions, the analysis on the upcoming matches. To give their predictions. On each participant will be statistics and rankings. The best will be able to organize your paid subscription to our website.
The service is made quite easy.



You just choose your day. You can watch the forecasts of other participants and to vote for this forecast, as well as give their predictions on a game.
VOTING FOR SOMEONE ELSE FORECAST
To vote "FOR" or "AGAINST" the forecast of the other participant, You just click on the green hand , with a raised finger up if You agree with the forecast, and the red hand down your finger down - if You do not agree with the forecast.



Gray hands in front of the match means that either You have already voted in this forecast, or to vote anymore because the game has already started or completed.
ADD YOUR FORECAST
To add your forecast, you have to click the plus button , located in front of the match. In one game, you can add at least a few different forecasts. You can also make the forecast, even on those games that already have the forecasts of other participants.
After You click on the "plus", a window will appear with the choice of the rate for the forecast.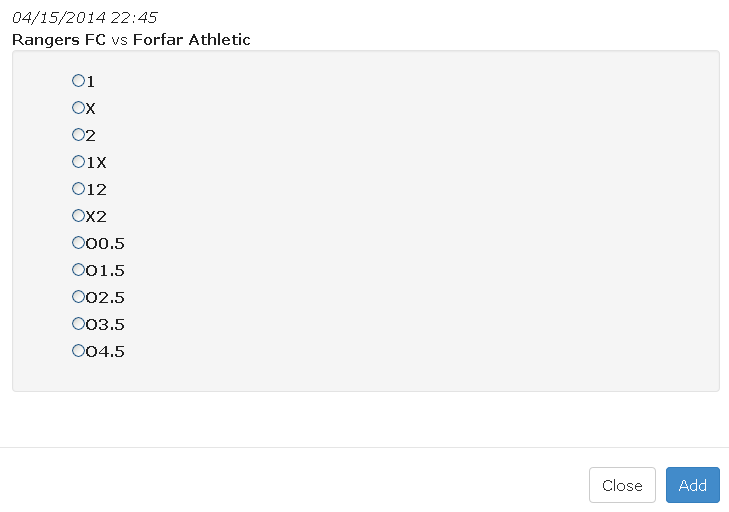 Here you must select the rate at which you make a forecast and click "Add".
1 - home win, X - draw, 2 - away win, 1X - home win or draw, 12 - no draw, x2 - away win or draw, A - will be a goal or more in the match, O - will be 2 or more goals in the match ... O - will be 5 or more goals in the match.
After adding forecast - You can always delete (before the match). To do this, simply click the "X" next to Your bet and the forecast will be deleted.



RATING
Top service features tab "Rating" and filters selection.



In the tab "Rating" You can see all the participants of service, which gave forecasts, their rating, the profit and the number of bets to understand how effective the forecasts gives one or another member of the service.
To leave in the service of forecasts of participants, just click "forecasts" (Forecast only).

For those who wish to sell forecasts

Everything is quite easy. In order to sell forecasts You must get the reputation: during definite time, to earn profit on Yours forecasts. At present moment –profit is not less than 300%, time is not less than 35 bets.
So If You get the profit more than 300% by Your bets(all statistics about Your bets is recorded automatically by our Center), You can make claim for possibility to sell forecasts.

Your actions for beginning to sell forecasts:

1.To make successful forecasts in Bettor service (see Manual of Bettor service)
2. After getting necessary profit and implementing conditions (see Rules) come to subdivision My page/Bettor
3. To send from this page claim for getting license for selling forecasts by pushing the button "Send request"
4.After getting approval from administration of the site to Yours electronic address , You may begin selling forecasts. You will get the sign "payable" in the window of bet choice. Also You can make free forecasts in order to rise Yours rating.
5. You determine by Yourself the price of forecast . Money transferred by the other members of the Center will be getting to Your balance (My page/Balance), which You can spend at our Center or to get them out.

For those who want to buy qualitative forecasts

If You want to buy qualitative forecasts, You may visit chapter "Paid forecasts"
There You will see payable forecasts of reliable bettors. Before purchasing You may see his statistics: as payable, as free in order to make decision for purchasing.
The chapter "Paid forecasts" presents game, Date, bet rate, price. In order to purchase the forecast simply push the basket and pay. After purchasing You will be able to see as this table, so as the table
"Purchased forecasts" at the address "My Page/Bettor".