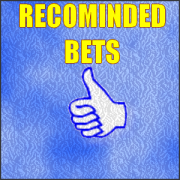 Are pleased to announce the addition of all the services an additional filter of "Recommended bets".


Now when you click on this icon You will see the recommended service rates, selected on Your chosen day.
All bets are selected according to the principles described in the guidance services.
We're not talking about that, to put or pick Your game strategy according to the recommendations, but often these rates are very bad pass.
This filter is made for the purpose of saving time and assistance in the selection, the selection rates for services.